Petr Bystrov. People. Money
JART Gallery, Moscow
11 April 2019 - 2 June 2019
Curated by Nikolai Palazhchenko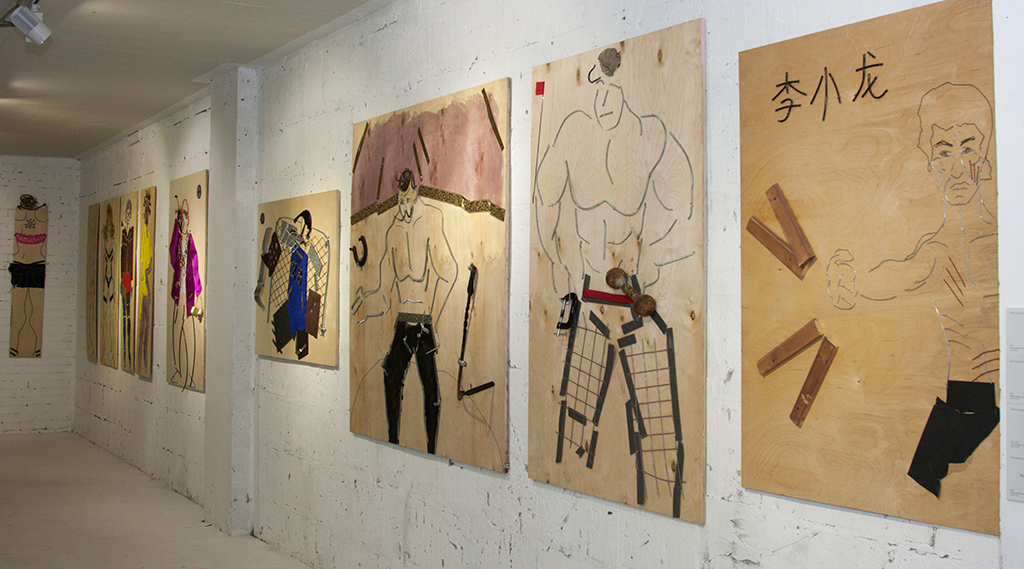 The exhibition "People. Money". JART Gallery. 2019.
There are few contemporary artists who can boast of having invented their own artistic method. Among those who can is Petr Bystrov. A unique original technique that its creator calls skobogravure (from skoba – "staple") allows Bystrov to create works using what are seemingly far from artistic materials – builders' cramp irons, staples, cable, wire, nuts, pieces of sheet iron, parts of devices and mechanisms.
A trained and experienced athlete, Bystrov overcomes the resistance of the material with playful ease. Using his bare hands, without the help of tools or appliances, he fashions his celebrated portraits "out of nothing" – or to be more precise from household rubbish and builders' refuse. In a bent poker, a selection of parts from a mincing machine, special communications cable and scraps of fabric he can spot, and offers to his viewers, the images of Semion Budenny, Karl Lagerfeld, John Lennon, Vladimir Mayakovsky and other heroes and personages of the present-day pop culture "pantheon". The keen perceptiveness with which the artist can snatch any piece of scrap out of its everyday context and reveal its creative potential bolsters his already long-established image as a "present-day Levsha". The pretentiousness of that comparison with the tragic craftsman who shoed a life-size clockwork flea in the 1881 tale by Nikolai Leskov is redressed by Bystrov's boundless self-deprecating humour and his touching affection for the subjects of his works.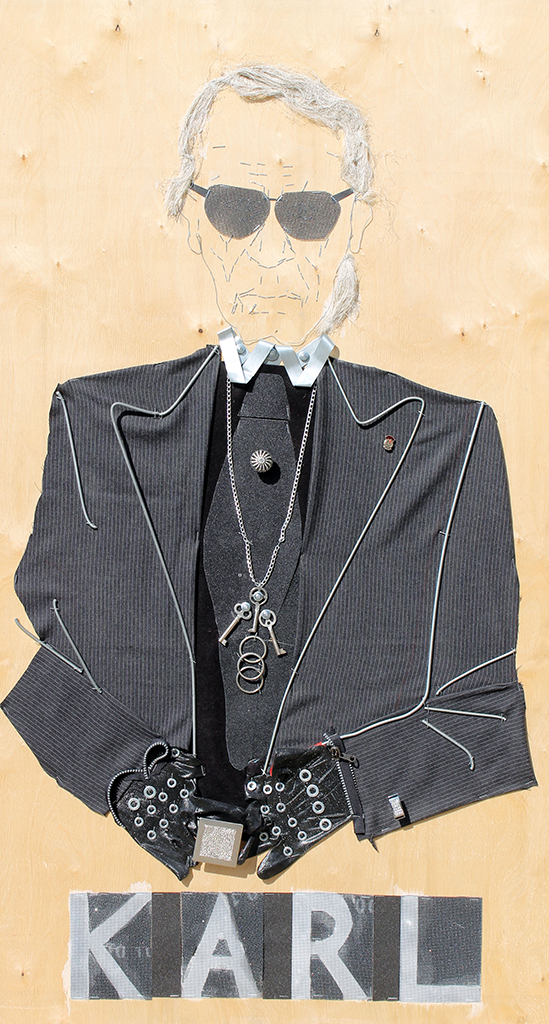 Petr Bystrov. "My Neighbour Karl". 2015.
Bystrov is, however, not only attached to reality. He is no stranger either to super-reality – the world of the "universal equivalent of the measure of the value of all things". What can be more real, yet at the same time more abstract than money? Just as he is attracted to in the icons of contemporary culture, the artist is also drawn to the cult images of Soviet 3-rouble and 25-rouble banknotes, 100-dollar bills and 500-euro notes. Petr thoroughly explores the super-nature he has selected. He splits the banknotes into their parts and components, then reassembles them as if trying to discover the magic of money through methods and rituals akin to alchemy.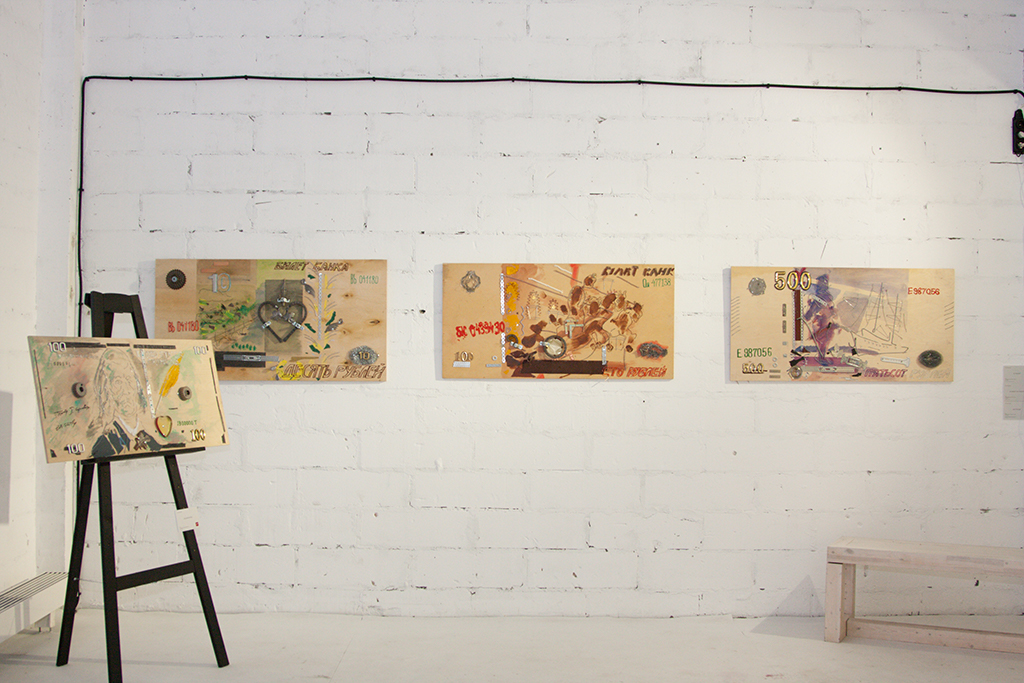 The exhibition "People. Money". JART Gallery. 2019.
In Petr Bystrov's exhibition at the JART Gallery, the artist's famous portraits appear alongside works from his "money series" for good reason. The artist is not juxtaposing the real and the abstract, the specific and the conceptual, the human and objects belonging to the soulless world of the "universal equivalent". The "banknotes" that Bystrov creates quite often possess the charm and attractiveness of living beings, presenting personages with their own story, charisma and character, while the images of people, on the contrary, turn into what is merely a strange, if highly appealing, jigsaw puzzle composed of scraps of reality.
The exhibition featured works by Petr Bystrov from private collections and the Gazprombank collection.


"My Neighbour Karl" and "500 rubles" from the series "Money" are part of the Gazprombank collection.

The artist on his "Money" series:
What should money be like in general?
The answer's simple – ample.
So as to at least be able to buy something with it.
Still, money should not only have purchasing power, but also look attractive. It's nice if looking out at us from the surface of a banknote there's not a regicide, but some seafarer, poet or hero, someone like Robin Hood, Lermontov or Gagarin. It's also desirable that money makes a crisp sound.
The 500-rouble note meets all those criteria. In a shop you feel comfortable and confident with five hundreds, but if you have a wad of 500-rouble notes then it's wonderful!
Abroad it's a different matter. There you can't go a step without 500 euros in your pocket.
In terms of colour, the 500-euro and 500-rouble notes are identical: dark red with violet, graphically and artistically interesting. Expensive like contemporary art. Natural like everyday needs. In short, it's good to be in the money…